We all love that feeling when we leave the salon with our perfectly groomed, non-frizzy, bouncy hair that looks like we just walked straight out of a Loreal commercial. But keeping it looking that great once we're home? We all know that's a different story…
Luckily, there are plenty of ways you can maintain that salon-worthy hair at home. We've rounded up our top five hair care tips from experts around the world have agreed on. Regardless of your hair type, you can benefit from these simple hair care do's and don'ts for healthier, sleeker, more manageable hair. Say goodbye to those bad hair days!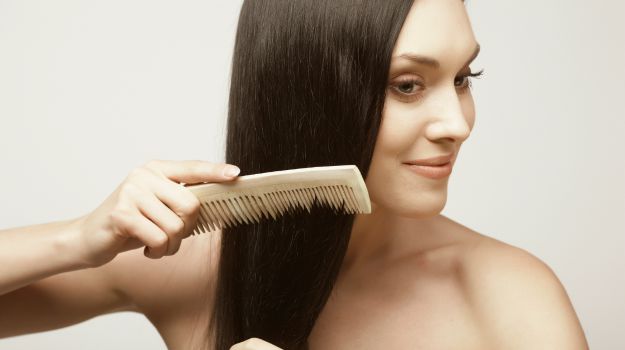 Limit how often you wash your hair
Did you know you should only be washing your hair two to three times a week max? New York-based hair stylist Dan Sharp – whose clients include Charlize Theron and Kate Winslet – explains:
"Your hair's natural oils are designed to condition and protect your tresses, so when you shampoo daily, it strips these vital oils away. It creates a vicious cycle of overproduction of oils and a need to shampoo very often. Ideally, to keep your hair healthy, you only need to wash two to three times a week, max."
It can be hard to break the habit if you're already used to washing your hair on a daily basis. One idea is to use dry shampoo in-between washes – it will help to refresh the hair at the roots while still helping you to retain all the essential moisture your hair needs.
Shampoo your scalp, not your ends
It's not only about how much shampoo you use, it's also about where you apply it that counts. Shampoo should be used on the scalp only, not the ends of your hair. As the shampoo will rinse down in the shower, cleansing the ends of your hair without the need to scrub.
While you shampoo your hair, giving your head a nice massage is a great way to encourage proper blood circulation and also help detoxify the scalp. 
It's surprising how properly shampooing, conditioning and taking care of your scalp can contribute to having strong, healthy hair!
Invest in quality conditioning treatments
Just as important as your shampoo routine is how you condition your hair. Investing in salon quality hair conditioning treatment can have a massive impact on the overall health of your hair. Strong, healthy hair is the best way to make any hair look expensive and luxurious.
For curly, thick and highly textured hair, deep conditioning is vital – those two minute leave-in conditioners just won't cut it! A proper deep conditioning treatment will add strength (protein) and moisture back into your hair. Applying heat will help the treatment penetrate the hair follicles – either apply the conditioner while showering and let it sit there, otherwise cover your hair with a plastic cap and use a hairdryer to heat.
Brush your hair the right way
Healthy hair needs regular brushing – but there is a right and a wrong way to do this. Brushing your hair incorrectly can actually result in weaker, more fragile hair – making it more susceptible to breakage.
Ideally, you'll want to be brushing your hair twice a day – once in the morning and once before going to bed at night (and for no longer than a minute). Always treat your hair nicely and don't be rough with it.
If your hair is wet, don't use a brush – instead, use a wide toothed comb, starting from the ends of your hair and working your way upwards. Try not to rough-dry your hair with a towel – instead, gently press the water out using a micro-fibre towel (or if you don't have one, you can use a cotton t-shirt).
Avoid excessive overheating
One of the worst things you can do for your hair is to overheat it with excessive heat from styling tools. Always use a low-heat setting when using a hair-dryer and point the nozzle down (not side on). If you're using your hair-dryer every day, try cutting back on how often you wash your hair – dry shampoo is a perfect solution for those in-between washes.
Heat protection products are a must if you're blow-drying and/or straightening your hair on a regular basis. Quality heat protection products can make a huge difference to avoiding drying out and damaging your hair while styling. Ask your hairstylist about what thermal styling product would be be suited to your hair type.
There you have it – our top 5 tips for at home hair care! A few changes in your hair routine can have a huge impact on the overall health and condition of your locks. Want to chat further about the best hair products to use at home? Come on in to Bijonei to chat with one of our hairdressers today!